The Paulding County Rotary club new president, Travis Miller, began on Tuesday meeting by recognizing individuals and addressing upcoming events on schedule. With a large attendance present, club member Doug LaRoss introduced our speaker David Edmonson.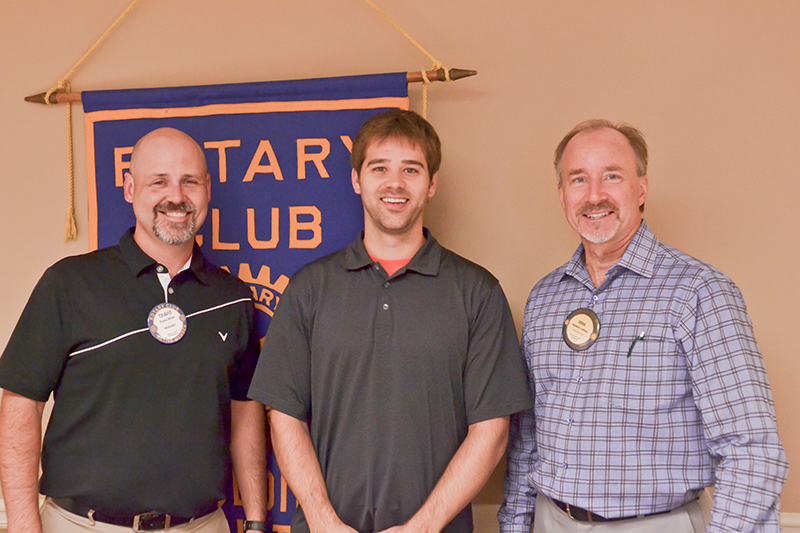 Mr. Edmonson is a business owner who began in Powder Springs . His company, Variux which is a tech business, specializing in providing e-commerce solutions for business owners. Mr. Edmonson provides a variety of services for his clients with their web-based business needs, also related IT support. Individual security and how best to protect yourself was the focus of Mr. Edmonson's presentation. Whether we like it or not security a paramount concern these days for any business owner, or individual, whether or not they intend to establish an online presence.
The presentation began with the title "Five Practical Ways to Become Unhackable". Number one being unhackable is a myth. But you can do your best. The best place to start is with a good password. Passwords are very important that should be strong, containing many and multiple types characters(numbers, capital letters, punctuation marks, etc).
One of the biggest mistakes people make is that they don't recognize the need for security. "I don't have anything criminal would want." This is wrong the truth is everyone has something worth stealing, and that would be your identity. For example, medical information is quite valuable on the Internet these days. Stealing someone's medical information in connection with your identity can allow criminals to make false insurance claims. This can be quite lucrative.
A simple list of things that you can do to become more safe are:
Shred your documents.
Establish good passwords.
Do not email sensitive documents without passwords.
Do not email the password.
Do not scan and store electric documents unless you're going to secure them.
Start simple, but start. It all starts with a good password and a shredder. For important passwords, writing it down on paper and putting in your gun safe, could be a terrific strategy. Common sense can keep you safer than most Americans are today. Educate yourself talk about security talk about personal and work separation turn on passwords use individual passwords and do not open email attachments. Be mindful of how your employees use the Internet while logged into your company's network. Invest in good tools. One myth is that security is expensive. This is simply not true for a mere one dollar a month you get 90% ahead of the curve. Most people use one password for everything this can be a disaster. Backup your sensitive information (external hard drives) or there are online services they can help with this such as; https://www.carbonite.com or https://www.crashplan.com. Be sure to use Antivirus software. If you don't know which antivirus software to use than ask and IT technician. Speaking of which, if you run a small business it is a very good idea for you to find a great IT technician.
Mr. Edmonson gave a very thorough presentation. The Paulding County Rotary Club very much appreciates his time and effort. If you would like to contact him with any questions you may have concerning online security is contact information is below.
Photo L-R: Travis Miller, David Edmonson, Doug LaRoss
Mr. David Edmonson
website: variux.com
email:


phone: 678-667-2185