Vic Williams receives Will Watts Fellowship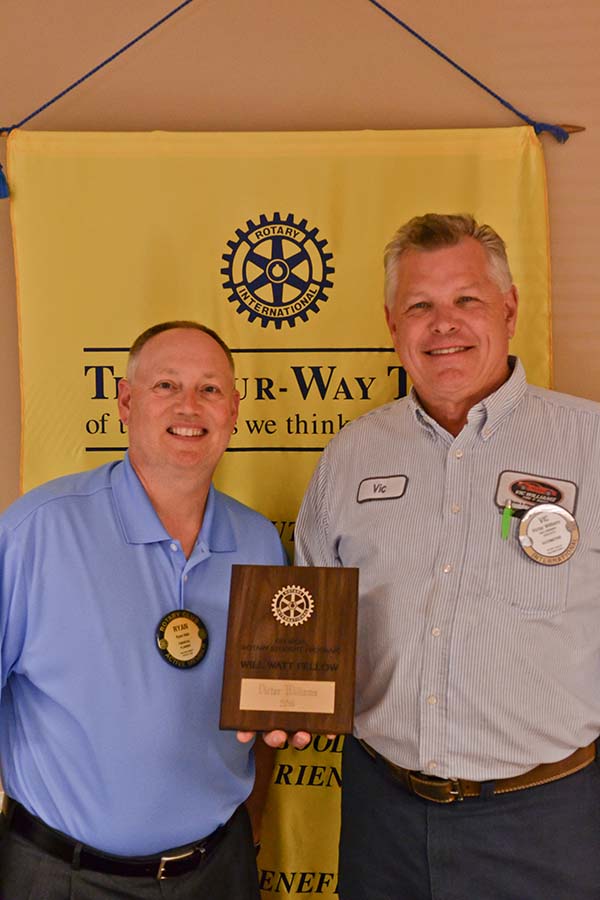 Vic Williams, of Vic Williams Tire and Auto is shown receiving his plaque signifying him as a Will Watts Fellow. Ryan Hale presented Mr. Williams with this award as he gave a brief history of Will Watts and his vision and founding Georgia Rotary Student Program.
In 1945 Mr. Watts was the mayor of Thomasville Georgia. At the end of World War II, General Eisenhower made a request for humanitarian support on behalf of German towns during the coldest winter on record in postwar Germany. A planeload of supplies and relief goods was flown to Luneburg Germany under the direction of Major Will Watts. Mr. Watts was honored for his humanitarian effort on behalf of the people in that town. Will Watts, a Rotarian, conceived and founded the Georgia Rotary Student Program in 1946 as a means to foster world peace. The GSRP provides funding for college students to come to Georgia from across the world. This is not an exchange program but a scholarship program. Whereby students living on campus these scholarships and are involved with host families through the local Rotary clubs. These scholarships are funded by the donations of Rotarians. Those Rotarians to give a donation of $1000 or more are known as Will Watts Fellows.