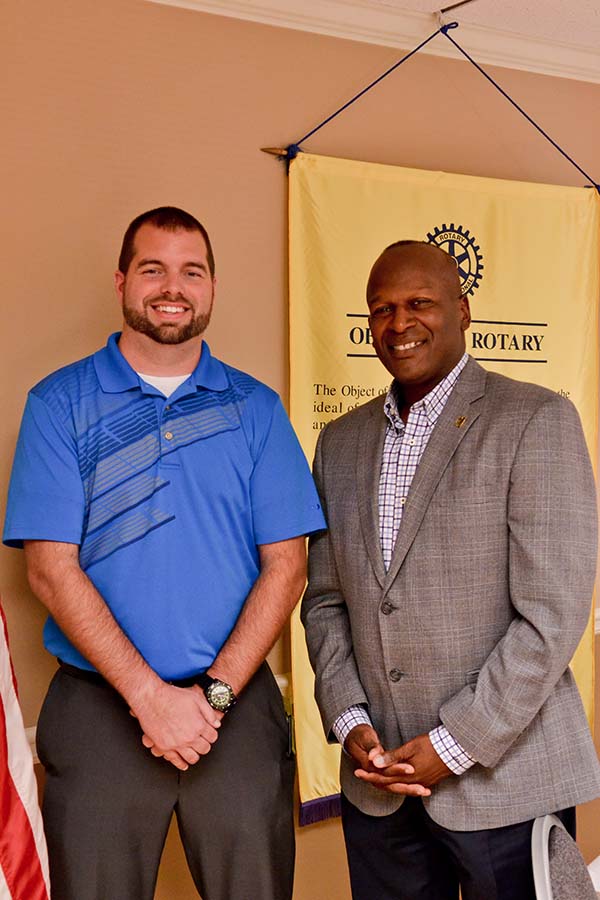 Paulding Rotary president, Travis Miller began the meeting by covering upcoming events. Once the various projects have been addressed Earl Duncan gave the invocation and the meeting was then handed over to Brian Barnett. Mr. Barnett introduced our guest speaker Kennesaw State University Athletics Director Vaughn Williams. Great changes within the college's sports teams have been widely noticed. A sponsorship by Adidas and enhanced branding is attracting much new attention.
Mr. Williams took the podium with a broad smile and began the meeting with a brief game of the price is right. He challenged members of the Rotary club with trivia questions about to current events relating to the Kennesaw University. After rewarding the members with hats and shirts for the answers, we learned that Kennesaw State enrollment swelled to nearly 35,000 students. Growth of enrollment is up 4%. This is a large increase for the local community. A surge in pursuing education speaks well not only of the University but the community as well. Community growth along with student retention and transfers into the University of 17% speak directly to this increase. Additionally, mergers with Polytech Institute have given an enrollment and transfer Avenue for students seeking engineering and computer degrees. This is given a rise to both traditional and nontraditional students.
As Athletics Director for the University Mr. Williams has formed the Kennesaw State Athletics Association. He is the driving force and vision in the re-branding of the Athletics Department which now includes women's lacrosse and football. Also, Mr. Williams signed a partnership with Adidas for official apparel for the Owls Football Team. With the successful launch of the football team Mr. Williams also recruited renowned coaches and top talent to staff the men's and women's basketball teams as well as volleyball. This year all Kennesaw teams successfully made it to their respective conference tournaments.
The outward success of the Kennesaw University Athletics program has been balanced with character and leadership training. These are non-negotiable aspects of the curriculum. "God built everyone to be something" Mr. Williams said as expressed pride in achieving 3500 hours of community service where no community service programs had existed before. Also he related their success with internship programs. This provides valuable experience and knowledge so that the student is pursuing a goal and degree that will help them achieve a better station in a better community. Hands-on training combined with an interested approach in the student's development. This is guided by a "respect the privilege" mindset which provides an earned value of achievement as this State University endeavors to build more educated well-rounded and successful graduates.
Mr. Williams closed by taking questions from the Rotarians and thanking them for the opportunity to share the story of success that the effort and investment is having for the Kennesaw State University. To learn more go to the Kennesaw State Athletics website by clicking here.
L-R: Brian Barnett, Vaughn Williams and Travis Miller