Paulding Rotary Guest Speaker: Midway Covenant Christian School Principal Dr. Matthew D. Ross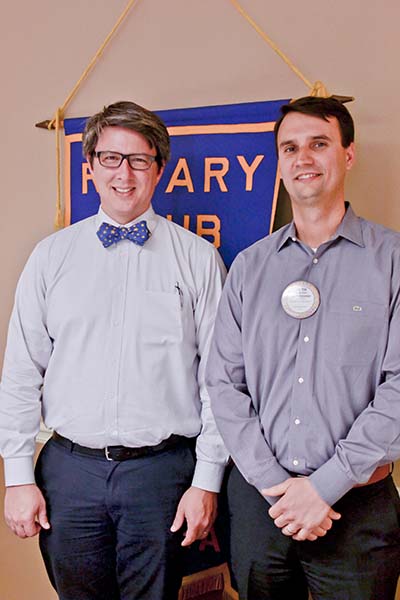 Club president Travis Miller called the meeting to order and thanked everyone on the parade committee for their efforts in bringing together another successful Christmas parade. The meeting was given to club member Justin Fuller. Mr. Fuller introduced our guest speaker, Dr. Matt Ross the Principal of Midway Covenant Christian School.
Dr. Ross took the podium and thanked the Rotary club for having invited him to participate. Dr. Ross spoke about the classical principles of education, Christian classical education and the practiced goals of Midway Covenant Christian School. All education begins with the acceptance, by faith, of immutable true and good standards. This allows for a unified understanding of education, a place to begin. Contemporary forms of education generally treat subjects as independent silos (storehouses of information). Isolating subjects such as math from science or history and so on. The classical Christian education philosophy is more of a tapestry illustrating the separate topics connected through the common threads of creation.
Dr. Ross expressed that the goal was to build a love for learning in students. He made it clear that he did not subscribe to the philosophy that you need to entertain children to educate them. The topics of classical education have been established and are entertaining to those students who have been taught to appreciate learning. Midway Covenant Christian School applies a three-phase philosophy to education, which are grammar, dialectic, and rhetoric phases. The grammar phase develops the skills of observation in memory, allowing students to acquire the building blocks of understanding (reading, mathematics, and history). The dialectic phase concentrates on logic and discursive reasoning wherein students learn the ability to understand other people's viewpoints and explain their own. The rhetoric phase helps develop the skills of synthesis and expression. Building with and upon the other two phases, students achieve advanced problem-solving and precision in expression.
Dr. Ross brought his presentation to a close by answering questions from the Rotary club members and thanking them once again for the opportunity to speak.
Midway Covenant is a private school with approximately 300 students from kindergarten to eighth grade. The goal of this private Christian school is to grow each child in their pursuit of knowledge; learning to learn their key component of education. Midway Covenant Christian School is located in Powder Springs their if you have any further questions or would like more information please visit their website at www.midwayschool.org phone 770-590-1866.
photo: Dr. Matthew D. Ross, Justin Fuller