Paulding County Rotary club meeting for January 10, 2016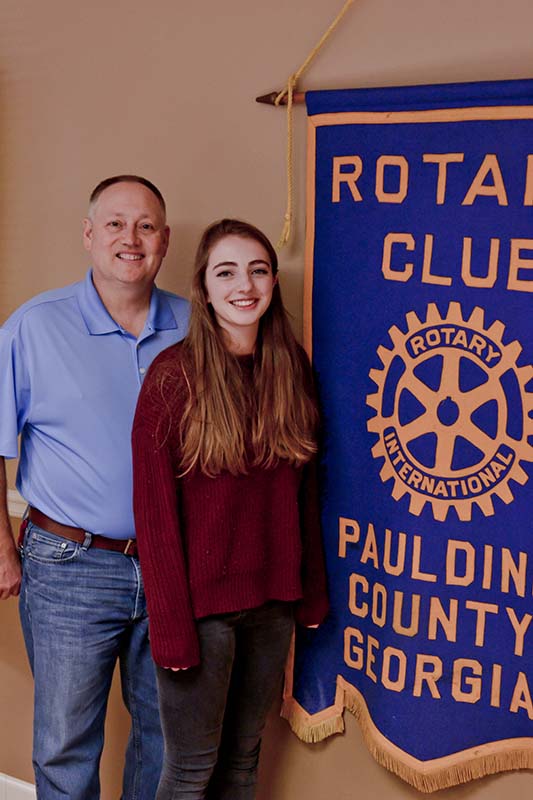 Joining us a second time for the GRSP program, Miss Mhairi Dunnett provided Rotary members with an update on her stay here in the United States. Miss Dunnett was introduced by Mr. Ryan Hale who is an active proponent of the Georgia Rotary Student Program. The program is not an exchange program. It is a scholarship program created to inspire peace through cultural exchange.
Miss Dunnett is currently attending Kennesaw State University. Ultimately she is pursuing language as her primary scholastic focus. Her interest in international culture and travel seem to fuel her love of language. Since her last visit in September, she finished her first semester and was able to enjoy the holidays up and down the East Coast. From New York to Miami, Miss Dunnett was able to spend time with friends and family while experiencing much of the art and culture that we as citizens take for granted. In her travels she found inspiration in the bustle, of New York City, the monuments Washington DC and the cityscape artwork of Miami. As for Georgia, she was able to experience the world of Coke and are Georgia aquarium. When asked she noted that the people of the South, and specifically Georgia where the most welcoming and inviting. And though this is different from her home in Scotland it was the most profound observation of her new found friends here in the southern United States.
As a guest speaker for the Paulding Rotary Club, Miss Mhairi Dunnett, an exchange student from Edinburgh Scotland, made her presentation for the GRSP program. The GRSP program started in 1964 as a scholarship program for international students. The students live on campus as they attend school and participate in a cultural exchange with their adoptive host families. The students would be adopted by host families of Rotary Club members here in Georgia. The exchange of culture is to promote peace through understanding. Miss Dunnett currently attends Kennesaw State University. Miss Dunnett is one of 51 students involved in the GRSP this year, eight of whom are from Scotland and six of those eight are all from her high school in Edinburgh. Each year, approximately 60 students from all over the world make friends here in the United States and other nations by learning about different cultures and life styles. Georgia Rotarians believe "Peace is Possible" through the GRSP to promote international goodwill by friendship and understanding.
photo: Ryan Hale, Miss Mhairi Dunnett