Paulding County Rotary Club meeting for January 17, 2016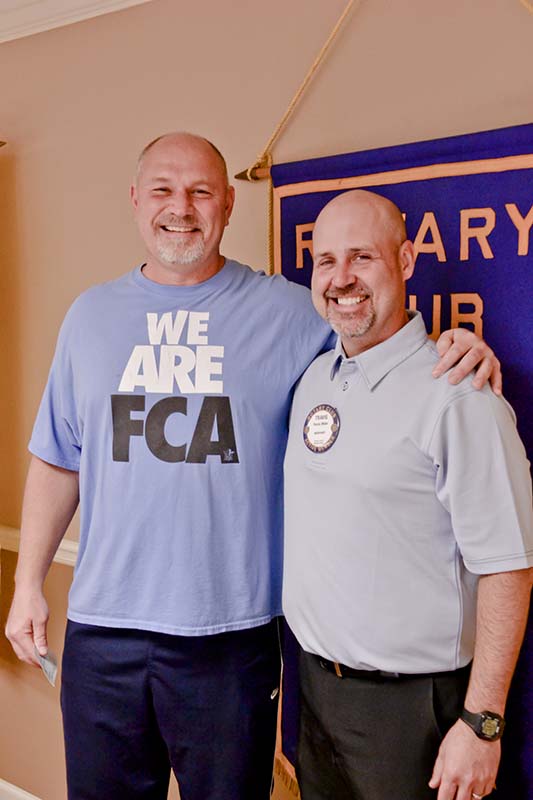 Paulding County Rotary club is visited by our guest speaker Robbie Finley. Invited and introduced by Rotary member Alan White, Mr. Finley spoke on behalf of the Fellowship of Christian athletes. The FCA is an international organization whose goal it is to present coaches and athletes the opportunity of receiving Jesus Christ as their savior.
The FCA is an international ministry which operates in 30 different countries. Through sports they are allowed into countries who otherwise would not allow such a ministry. Closer to home the FCA here in Paulding County for the 2015-2016 school year has led 97 people the first time decision for Christ, distributed 310 Bibles, partnered with eight local churches, seen 484 athletes and coaches go to camp and counts 48 certified huddles. The goal is to see lives transformed. Through ministering to coaches and athletes the FCA is providing the positive message that is truly needed today. With the support of the good people of Paulding County, the ministry is seeing positive results as lives are changed. The FCA is continuing to grow in the county and has been able to hire Ms. Kirby Flockhart, a full-time female staff member, to minister specifically to young ladies. In this new year, the FCA hopes to work more closely with the Paulding County school system and continue their outreach ministry. In closing, Mr. Finley thank the Rotary club members for their continued support and praying for continued blessings.
Paulding County Rotary club president Travis Miller presented Mr. Finley with $1000 check as a show of continued support for the ministries positive influence in the lives of Paulding County students.