Rotary Club of Dallas Serving Those Who Serve
The Rotary International motto "Service Above Self" is more than a saying it defines "the mission" of all Rotarians. The goal is to promote a culture of service that is the outgrowth of each member embracing a lifestyle of service.
The Rotary Club of Dallas focuses on serving individual needs that exist within our community, country, and the world by assisting existing non-profit organizations that are equipped to meet specific needs. This is accomplished by providing each member with opportunities to become personally involved in hands-on service. Additionally, and perhaps more significantly, the club provides monetary support for maintaining and expanding their ability to serve. The desire of the Dallas Rotary Club is to "Serve Those Who Serve." In 2016 financial support totaling $11,000+ was provided to the following organizations:
The Rotary Club of Dallas Georgia
Paulding Nursing Home
Christian Motorcyclist Association
Cobb-Paulding Adult Education
Family Alliance
Forgotten Seniors Project
KCI Kids
Paulding CASA
Paulding Education Foundation
Boys and Girls Club
Shepherd's Rest Ministries
Boy Scouts
Paulding County UGA (4-H)
Beehive International, Haiti
Helping Hands of Paulding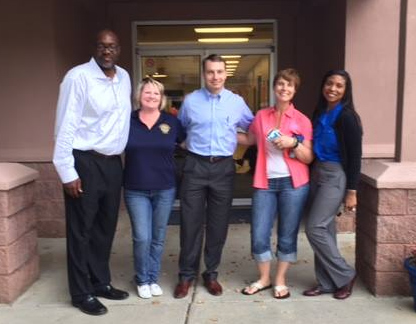 The funds that enable the Dallas Rotary Club to contribute to these organizations are gained through two primary sources, club member donations and fundraisers organized and administered by the club. The first fundraiser scheduled in 2017 is the annual golf tournament on May 17 at The Frog in Villa Rica. The Rotary Club extended an invitation to Helpings Hands of Paulding to become co-sponsors and receive proceeds generated by golfer's fees and sponsorships of businesses, corporations, and individuals to aid them in providing food, clothing and additional types of assistance to those in temporary or long term needs.
Mark your calendars and "Like" Rotary Club of Dallas on Facebook for up-to- date information about events and meetings! We are a small but mighty group of citizens who strive to make a difference in our community. Join us in "making a difference"!
Pictured RH: Kevie Dixie, Executive Director of the Paulding County Boys & Girls Club along with Dallas Rotarians Madge Lovingood, Chris Stokes, Teresa Janiga and Zee Ward.