Paulding County High School Principal and Head Coach Speak at Paulding Rotary Club Meeting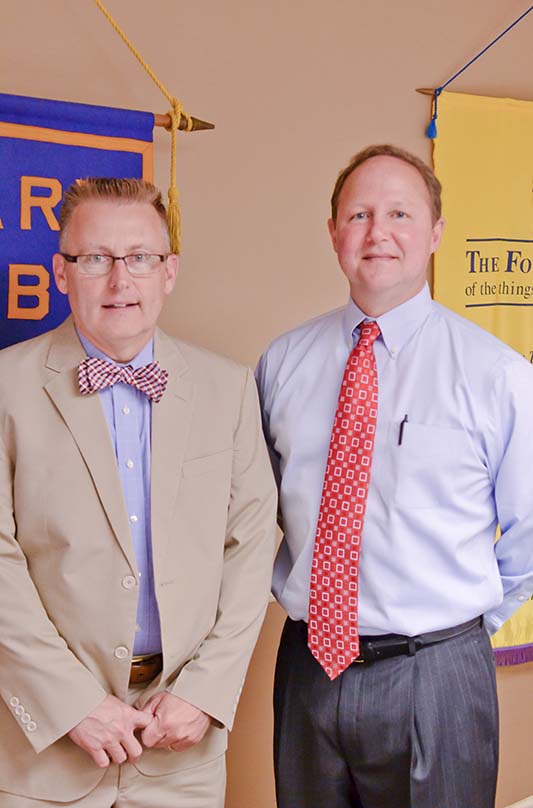 Principal Wilcox took the podium and thanked the Rotary club for the opportunity to share what has been going on at the Paulding County high school. Principal Wilcox recognized many members of the club as he himself is a long-standing member of the community and an educator of 22 years. Two years ago he became principal of the Paulding in high school. As our County has grown it now currently has five high schools, Paulding County high school being the original high school. During his 5 years with East Paulding high school, there was much growth there and the bar was raised for academic and physical education. This growth and positive achievement have been shared by all the new high schools in Paulding County. Which brings us back to the Paulding County high school, which was in much need of help. During the past two years, staff changes have been made, as well as restoration development of the campus. Beyond that, principal Wilcox outlined a change in philosophy towards education by the staff. A philosophy of moving forward and letting go of the "this is the way we've always done it" mindset, in order to achieve a better educational standard. Principal Wilcox shared that Marc Pedersen of Paulding County High School was named educator the year for 2016. This is a national award that only five teachers received in 2016. Also, the boy's basketball team made the state playoffs for the first time. Encouraged by these steps forward he thanked Sheriff Gary Gulledge for providing labor to help with renovations. Additionally, Mr. Wilcox thanked Art Ragsdale, of Ragsdale Heating and Air, for his financial support for Paulding County high school. Mr. Wilcox also thanked Van Spence, the new head coach, for his support and participation in the effort to make positive changes in the high school. As he turned over the podium to Mr. Spence he asked that everyone be aware of the positive changes and steps that are being taken moving forward to restore Paulding County high school.
Paulding County head coach Van Spence took the podium and thanked everyone for the opportunity to speak. As the new head coach, Mr. Spence has been active in retooling the mindset of Paulding County high school. Coach Spence along with the other coaches have been participating in afterschool training for students involved in the athletics programs, mentoring and affirming a new move forward philosophy. Seeing these efforts take root in the students and faculty has led to the raised expectations for PCHS and its future. He cited their new "burn the boats" motto as a rally to move forward and to persist in achievement. Coach Spence, an avid reader, shared "Chop Wood Carry Water" a motivational book that it helped to distil their new philosophy for moving forward. Students are made aware that with their education they are "building their own house" as an investment in their own future. Students make a decision on how they perceive their time. "Is my time here and obligation or opportunity?" Mr. Spence asked that we all continue to keep an eye on the changes taking place at Paulding County high school. The renewed focus and dedication of the entire school is beginning to take shape and he is a firm believer that there are more exciting changes to come. In closing, Coach Spence echoed principal Wilcox, in that their efforts are helping to create better citizens for tomorrow.
L-R: Travis Miller, Van Spence, Craig Wilcox, Ford Thigpen, Dean Hardy