Paulding Rotary Welcomed Patty McIver and Mary Carol Sheffield of UGA Extension & 4H
Rotary Club president-elect Ford Thigpen welcomed our Guest speakers, Patty McIver and Mary Carol Sheffield from UGA Extention office and 4H youth development.
Mrs. Patty McIver thanked the Club for the opportunity to return and give an update on all the progress that the extension office has made over the past year. Mrs. McIver previously visited January a year ago, as she had just begun her work at the UGA extension office here in Paulding County. Not only did she get off to a running start but it seems she's kept up the pace for the whole of 2017. Accompanied by Mary Carol Sheffield also from the extension office, they explained just how much work and effort are being invested in Paulding County.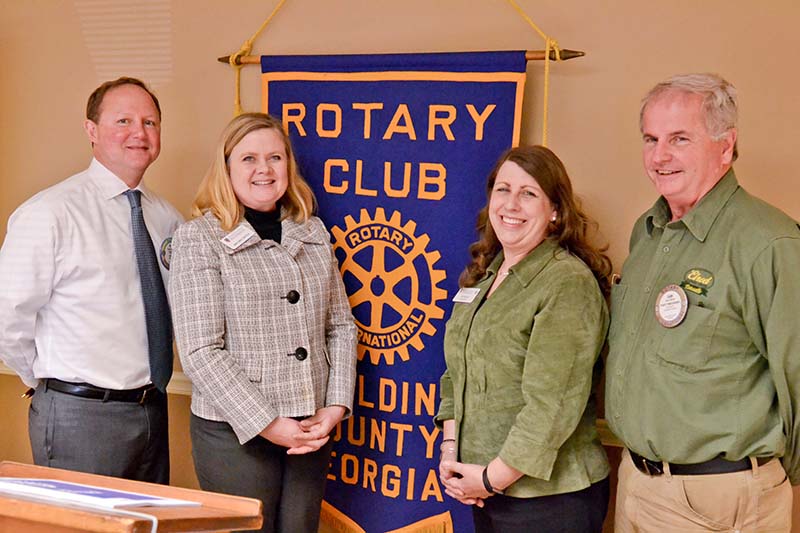 Mrs. McIver recounted 89 Classroom Club meetings each month for 5th graders at all Paulding County Elementary Schools. Meetings are held August through March. There were 9 Middle School Club meetings at each of the Paulding County Middle Schools, which are held September through April/May. At the high school level 4-H'ers have their Senior Club meeting once a month as the Paulding County UGA Extension office. Paulding County 4-H (S.A.F.E.) sports teams include archery, BB gun, and shotgun, and currently, have more than 60 4-H'ers competing. The Horse and Pony Club are growing and now has 36 members. Mrs. McIver shared that they now have over 2,500 4-H'ers enrolled in Paulding County.
UGA Extension office for Paulding offers a wide variety of opportunities including conservation and management of natural resources, agricultural programs water quality and youth leadership. The 4H is investing heavily in our youth. Their ultimate goal is to produce better citizens through clubs and after-school activities that provide education and a wide variety of meaningful activities in science-based learning programs.
2017-2018 Paulding County 4-H Competitions, Activities, Specialty Clubs, and Teams include: Poultry Judging, Horse and Pony Club, Shotgun Team (S.A.F.E), Archery Team (S.A.F.E), BB Gun Team (S.A.F.E), Forestry Judging, Cotton Bowl & Consumer Judging, Horse Quiz Bowl (H&P Club), and Summer Camps plus other summer related activities.
For more information please contact the Paulding County Extension Office located at 530 W Memorial Drive, Dallas, GA 30132-4116 or call at 770-443-7616