Paulding Rotary Club welcomed Sabrina Crawford of Gigi's House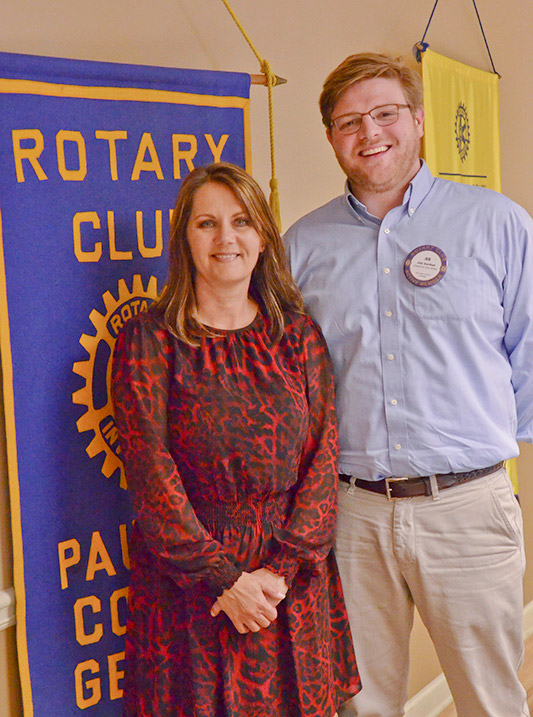 The Paulding and Rotary club welcomed Sabrina Crawford founder of Gigi's House. Mrs. Crawford, also a member of the Clayton County Rotary Club, has been working diligently against sex trafficking and its impact on the youth of Georgia. She had some terrifying information for the Rotary Club about this terrible menace to young people. Mrs. Crawford explained how most people view sex trafficking as something seen in movies. Girls from foreign countries being abducted, or a scenario similar to the popular movie Taken, this is simply not the case.
Here in Georgia young girls, and boys, are being lured via social media (such as Facebook, Twitter, Instagram, Kik, or any other web-based application) into a very dark and sinister trap. Mrs. Crawford explained that this is a parents' worst nightmare and can easily happen right under their noses. Many of the young girls that are involved in her program came from good families. They had great grades and were involved in many positive after-school activities. Yet through malicious online influence and or the manipulation of classmates, these young children had been lured away with the promise of a better life and or money. Subsequently, they were raped, abused, addicted to drugs, and made to serve as sex slaves to profit the sex trade industry.
It has been hard work to establish the Gigi's House facility. From zoning issues to certification it has been an uphill battle, but thanks to some funding from Heritage Cadillac and a landed donation, Mrs. Crawford was able to begin the work of calling. Gigi's House creates a safe environment for victims to heal. Dedicated to serving girls 13 to 19 are at risk of becoming permanent victims to the sex trafficking industry. These girls are provided a safe home for up to 18 months. Additionally, there are provided with individual and group trauma-informed therapy with a licensed therapist. They also receive homeschooling, mentoring, life skills and participate in daily self-confidence building activities.
Mrs. Crawford is very passionate and dedicated to these victims. These young women have been manipulated and forced into an unspeakable existence that usually leads to death. The statistics are frightening. 14 years old is the average age of the child that its use in prostitution. $290 million is the estimated revenue from sex trafficking in 2007. 90% of all exported children are under the control of a pimp. Seven years is the average life expectancy of a girl forced into prostitution. 65% of all victims deal with PTSD (post-traumatic stress disorder).
Clayton County school system has allowed information about the dangers of sex trafficking to be made available to students. Unfortunately, most school systems are resistant to talking about the problem. Online pornography is extremely addictive to young children and as a catalyst in opening the door to young children and the sex trafficking industry. Mrs. Crawford related that Paulette Rakestraw was working on introducing legislation to help parents safeguard their children against the Internet and pornography. Mrs. Crawford extremely pleased at this, and any help that would stem the tide. The numbers are alarming at how many children are falling victim to sex trafficking.
For more information go to www.gigishouseatl.org or contact
Sabrina Crawford, Founder

Telephone: 470-372-8050
7147 Jonesboro Road, Suite #870051, Morrow, Georgia 30287