Paulding County Rotary Donates to Children Services
During this month of June, the Paulding County Rotary Club has reached out to several children's organizations and programs that provide and protect children in our local communities. Earlier this month Yolanda Newell of the Paulding Boys and Girls Club updated the club members on the current progress of their afterschool programs for Paulding County youth and teens. Additionally, Christy Wilson of the Paulding County Court Appointed Special Advocacy (CASA) also visited the Rotary Club.
The Paulding County Boys & Girls Club works with hundreds of kids and teens each year to help them reach their full potential. Ultimately the goal is to produce better citizens for our community by providing an environment where all youth feel safe and secure to dream, discover, and develop. Our programs focus on helping kids succeed in school, live healthily, and become leaders. Our membership is currently 191 and our goal is 270. Of the 191 there are 134 youths and 57 teens. Our afterschool programs provide a safe place with educational programs that help to inspire our young people to reach their true potential.
CASA stands for Court Appointed Special Advocate which is a volunteer organization that provides specialized training in the court system, foster care, and investigation. When a child is involved in a legal situation where the welfare of that child is called into question the court relies on the Advocate to investigate and advise on what is in the best interest of that child. The CASA volunteer will get to know the child and investigate the circumstances surrounding that child. All investigative observations are taken into account as they are reported to the judge. This information allows the court to make the best decision concerning the child's welfare. Paulding County currently has approximately 70 CASA volunteers working with our courts at this time on approximately 120 in care.
Both of these nonprofit groups provide an invaluable service to the most important part of our community and look to the welfare of our children. Both groups received a $1000 donation each from the Paulding County Rotary Club.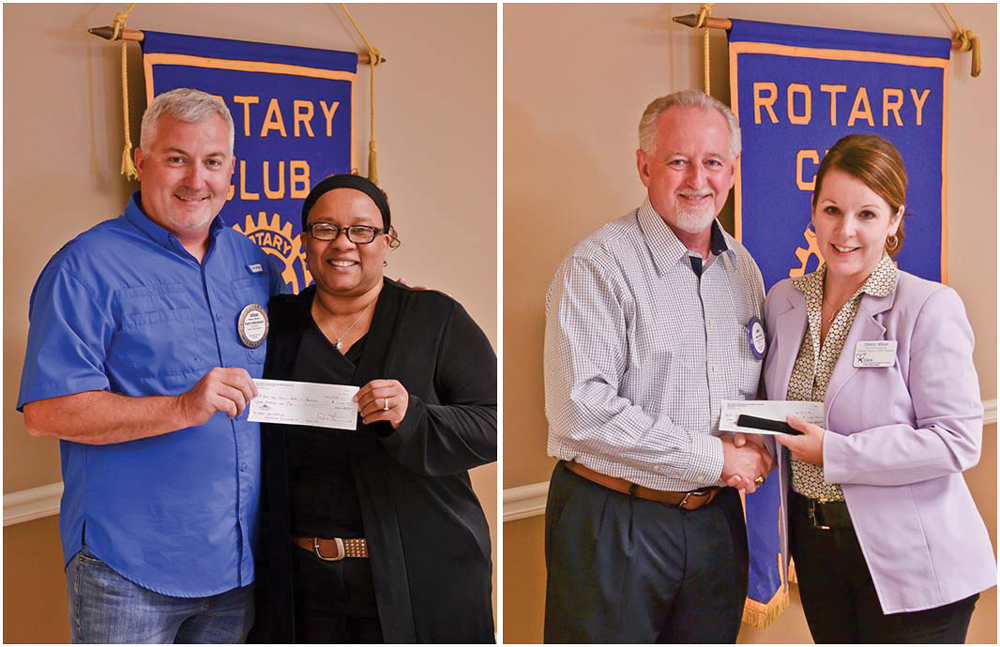 Brian Stover, Yolanda Newell, and John Grant, Christy Wilson