East Paulding Coaches Share Mentoring Program with Paulding-Rotary
Paulding County Rotary Club president, Ford Thigpen welcomed guests from East Paulding High School. In addition to our club members, we were joined by East Paulding's Assistant Principal/Athletic Director Brad Thomason, Head Coach Billy Shackelford, and Community Coach Bill Driskell. Mr. Driskell took the podium and thanked the club members for the opportunity to speak.
With the approval of Athletic Director Brad Thomason and the help of Coach Shackelford East Paulding has started their own mentoring program. Coach Driskell had started a mentoring program at Paulding High School about four years ago. During the aftermath of a terrible car wreck that claimed the life of a member of the football team, there was a need to console members of the team and cheerleading team. Due to economic and social issues in that area, it became clear there was a need for a mentoring program. The vacancy of a positive male role model in the lives of these young athletes was an obvious handicap to the students. The mentoring program was very successful there and Coach Driskell was able to bring that program to East Paulding.
Though East Paulding as a different demographic than that of Paulding High School the mentoring program was quickly received by the young athletes. As with all high school football programs, there is an emphasis on winning. However, Coach Driskell, Coach Shackelford, and Athletic Director Brad Thompson agree that there is more to high school football than winning alone. The opportunity to teach real-life lessons and instill positive traits is a calling and dedication that is at work in the East Paulding High School football program. In the coming year, the mentoring program hopes to expand, offering more sponsorship opportunities to freshmen athletes.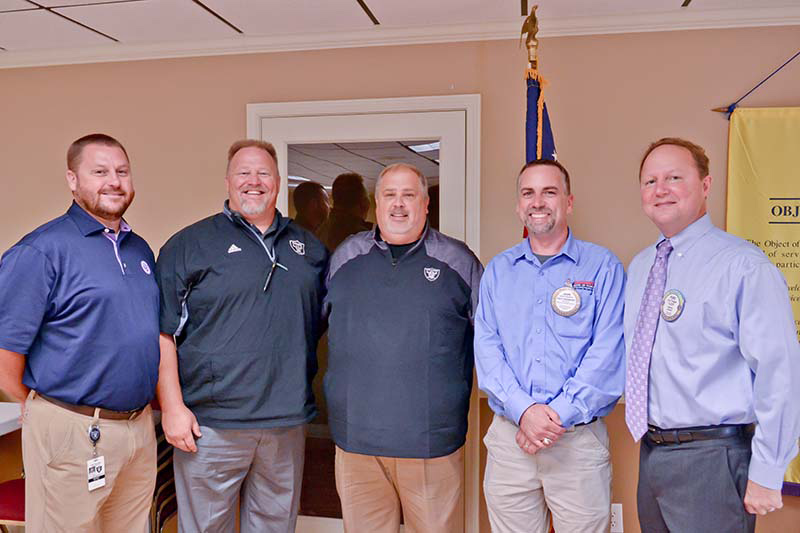 East Paulding's Assistant Principal/Athletic Director Brad Thomason, Head Coach Billy Shackelford, Community Coach Bill Driskell, with Jason Ragsdale and Ford Thigpen of the Paulding Rotary.