Paulding Rotary Welcomes Friends to the Forlorn Pitbull Rescue Inc.
Paulding County Rotary Club member Tina Drummond introduced her two guests to the Rotary Club. Aileen Culberson, Manager of the Paulding County Animal Shelter and Jason Flatt owner-operator of Friends to the Forlorn Pitbull Rescue. Upon introduction, Mrs. Drummond shared with members her knowledge of the pit bull rescue operation. As a board member, she vouched for the integrity with which resources are managed and spent for the betterment of all animals receiving help through the rescue. After the introduction, she invited Aileen Culberson to speak.
Ms. Culberson introduced herself and explained her role at the County facility. She shared the first time she had met Mr. Flatt. He came to the shelter to adopt a pit bull. She recollected her assumptions about Mr. Flatt and how the dog would possibly be put to misuse. However, that was not the case. In working with Mr. Flatt through the years she has realized his genuine and deep concern for the well-being of not only pit bulls but all animals in distress. On many occasions, she has called upon Mr. Flatt as a resource for the animal shelter. There is only so much that can be done on the County budget and Mr. Flatt has proved himself time and time again in providing assistance to the animal shelter.
After the introductions, Mr. Flatt took the podium and introduced himself. He thanked them both for the kind words and began to share some of his background including how he came to start a pit bull rescue. Originally from New York and a former commodities investor/manager, Mr. Flatt changed his path in life. After the loss of a family member, Mr. Flatt relocated to Georgia. Shortly after the move, he became a dog owner again, and while at the pound he noticed a desperate need for attention, especially with pit bulls. He said he remembered thinking to himself "someone should do something" this led him to understand that he was that someone. And from there he began to do something! Pit bulls have a bad reputation. This precludes them, for the most part, from most rescue and adoption efforts. Friends to the Forlorn Pitbull Rescue is one of a very few facilities in the country. Mr. Flatt has been successful at funding, organizing, and operating his rescue facility, thanks to his business background. Mr. Flatt continued the rescue's story by explaining the need to spay and neuter. It is evident that any possible hope of managing the needs of animals in shelters or in rescues starts with reproductive control. Mr. Flatt also highlighted the need for vaccinations by explaining how quickly disease can spread without these preventative measures.
Mr. Flatt shared with the Rotary Club members some of the successes he has had in pit bull rescue. He recounted several stories of terrible abuse that ended in critical wounds. Through these stories, we learned about the recovery and transition of dogs that anyone else would have given up on. Additional successes have been fundraisers and competitions that help to provide financial support for the rescue. Located near New Hope, and close the animal shelter Mr. Flatt is looking to expand to a larger facility. The rescue is saving funds to purchase land to that end. They are looking to stay in Paulding to remain close to the animal shelter and veterinary partner that provide his rescue with much-needed support.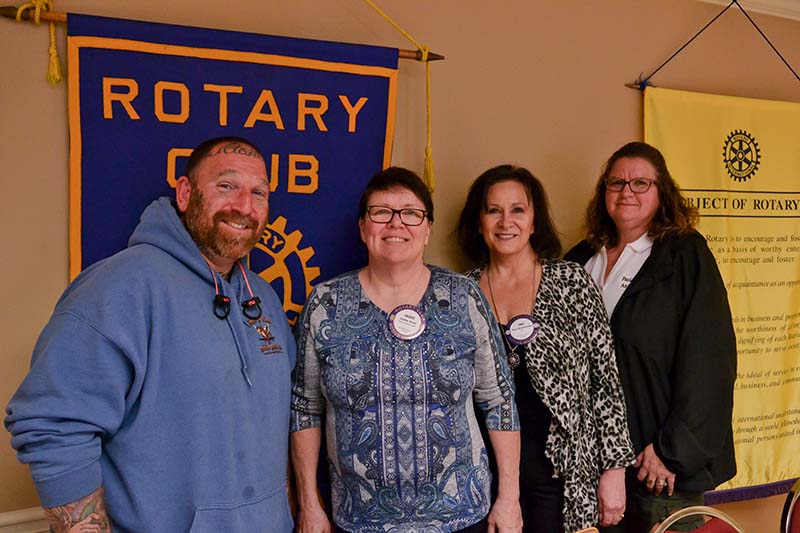 Mr. Flatt answered many questions from club members. Friends to the Forlorn Pitbull Rescue, Inc. is a volunteer-based 501(c)3 rescue group in Georgia. Our mission is to promote responsible pit bull ownership, provide breed education, combat pet overpopulation, fight unfair legislation, and find qualified homes for sound pitbull-type dogs and other dogs in need in Georgia and around the country. For more information about this rescue or to participate through donation, adoption or to possibly fostering a dog please check out their website Website, www.friendstotheforlorn.org.