Paulding Rotary Club welcomes Ricky Flores of the FAA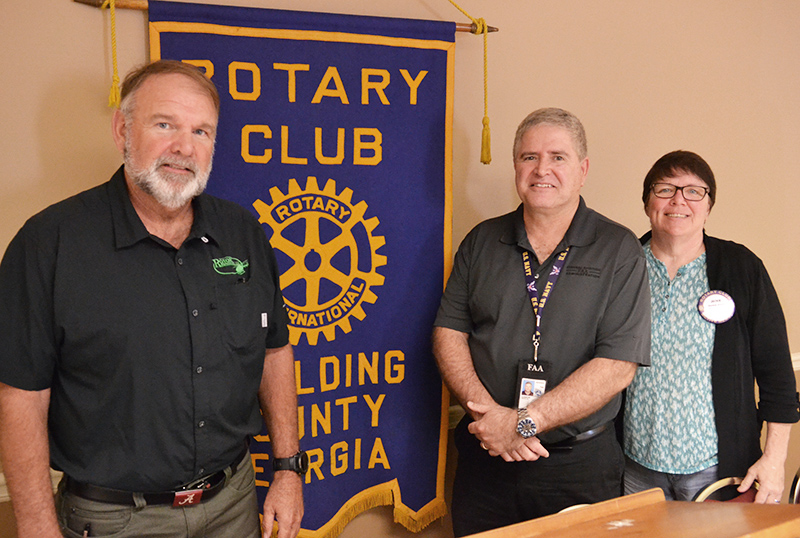 Mark Caffery member of the Paulding Rotary welcomed guest speaker, Ricky Flores of the FAA, to speak on behalf of the Aviation Career Education Academy program coming to the Paulding County Airport. Mr. Flores spoke highly of the career opportunities available in the aviation industry. He was also very optimistic about the value of these jobs moving forward. Specifically translating to very competitive wages in the aviation and space exploration industry. Additionally, he spoke of financial opportunities in furthering your education and testing towards a career in aviation. This June 10-14th at the Silver Comet field there will be in Aviation and Career Education Academy opportunity for high school students considering a career path in aviation.
The Federal Aviation Administration (FAA) created the STEM/ADVSED Aviation and Space Education outreach program to prepare and inspire the next generation of skilled professionals for the aviation and aerospace communities using Science, Technology, Engineering, and Math (STEM) based programs.
With the tremendous support of our program partners, our STEM/ADVSED program continues to reach communities across the US and beyond to provide expertise and resources on civil and commercial aviation. From our Aviation Career Education Academy and science fairs to guest lecturers and hands-on workshops, our pace that program blazes a path to high-flying careers in aviation and aerospace.
FAA's STEM/ADVSED programs offer countless ways for children and young adults to explore the exciting world of aviation and aerospace.
With the support of numerous partners in the public and private sector, we reach out to students around the region so they can learn more about military, civil and commercial aviation as well as the critical role that science, technology, engineering, and math plays in a young aviators future.
From nationally recognized programs to smaller regional and local programs, STEM/ADVSED outreach on all shapes and sizes - ACE summer camp's, job shadowing, career days, science fairs, field trip opportunities, workshops for educators, and more.