Paulding Rotary Club welcomes new 2019-2020 President Jackie Crum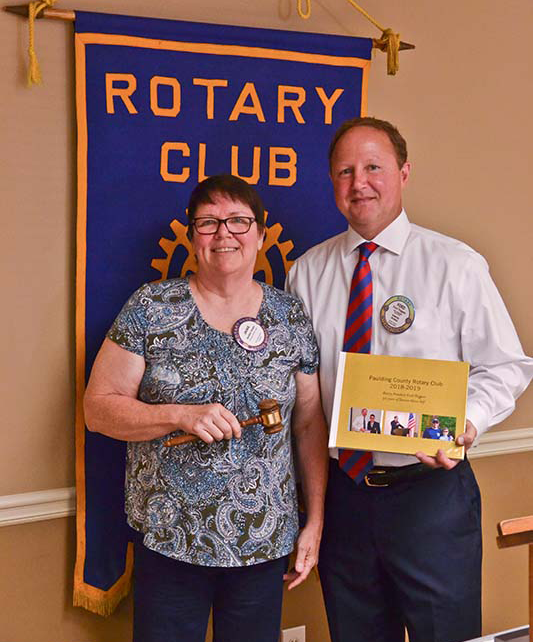 July 9, 2019, Paulding County Rotary Club President-elect Jackie Crum received the gavel today from now-past Rotary Club President Ford Thigpen. Jackie now in her third year of membership with the Paulding Rotary Club is looking forward to strengthening the Rotary Club's service and presence in the community. Previously a member of Civitans, Jackie has worked with the Paulding County Rotary Club for many years in organizing the Annual Invitational Dallas Christmas Parade. Also, a member of the local business community and supporter of nonprofit groups as well as other various community projects she has a long-standing with the business community as well as local government representatives.
Ford Thigpen brings his 2nd term as president to a close having overseen the 50th anniversary of the Paulding County Rotary Club in addition to leading an extremely successful year for all community projects and fundraisers established by the club. The Paulding Club's strong year of service to the community was matched by record growth in membership and club participation.
Paulding County Rotary Club would like to say thank you to the achievements of Ford Thigpen as it welcomes Jackie Crum as the new 2019-2020 President for the Paulding County Rotary Club.
Photo Jackie Crum and Ford Thigpen