Paulding Rotary welcomes Caroline Gränsbo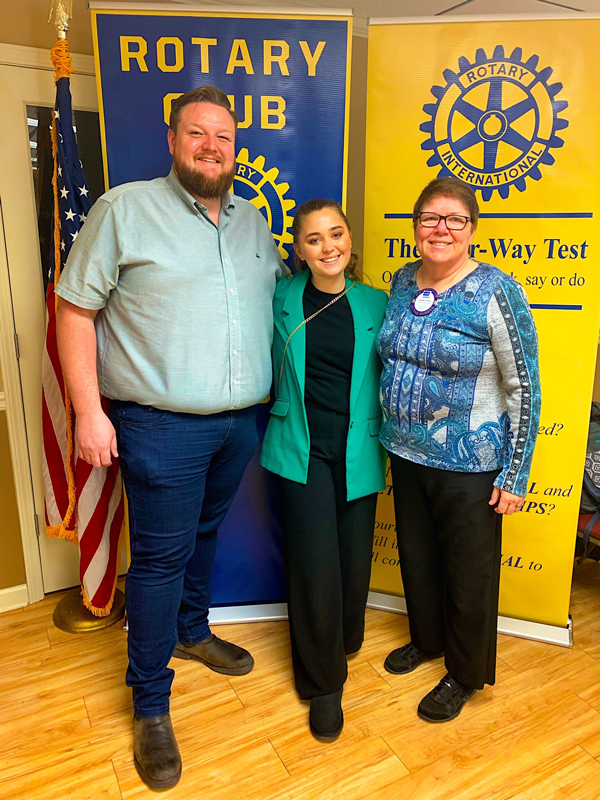 Paulding Rotary Club welcomed Caroline Gränsbo, an international student from Sweden who is currently attending West Georgia University. Caroline is in the Georgia Rotary student program (GRSP). Paulding Rotary is one of three local Georgia Rotary Clubs sponsoring Caroline in the GRSP. Her Paulding-Rotary host family is Brian and Ashleigh Headrick.
Miss Gränsbo is pursuing a degree in political science. Last semester she studied American Government learning about the Congress and the Senate for which she received an A in the class. She is on the debate team working on an international debate concerning migration and immigration for April.
Among her other favored classes are history, philosophy, and critical thinking (what makes a flawed or good argument) "It's something everyone should take." Miss Gränsbo is part of a group of students representing 11 other countries exploring American culture. "I Really enjoyed the Southern Hospitality. Americans are so welcoming and take care of each other. Contrast to Sweden where they are not so open." Seeing the way we celebrate Christmas and Santa was very interesting. Additionally, she visited Graceland on Christmas Eve and IKEA. Following that she went to her first football game this year where she tailgated and watched the game with other international students. She was amazed at how everyone stood up for the National Anthem. In Sweden, they don't even sing the anthem. So it was a great thing to experience. She wishes they had something like that in Sweden.
This opportunity has really been "something else"... seeing first hand what Rotary does in the communities. "I am so honored to be a part of this Rotary program. Rotary is amazing." All these experiences have promoted growth as a person being a member of the Rotary program. She knew no one upon arriving, but now has four new families and all the great members of Rotary she can call friends now. "I tried to do as much as I could while I am here." We traveled all over Georgia, Florida, and even took a trip to Mexico.
Miss Gränsbo is taking Russian Politics next quarter and plans to go to New Orleans during Mardi Gras. Her parents are coming to visit her in March and can't wait to show them around Georgia, as she returns to Sweden end of May.
Brian Headrick, Caroline Gränsbo, and Jackie Crum