9th Annual Pigskin Preview Part Two
Aug,18th, 2020, Paulding County Rotary – Club President Jeb Gordon begins the club meeting and turns it over to Ford Thigpen, event coordinator and chair of the Pigskin Preview event.
To give a brief history of the event, 8 years or more ago the club put together the idea of having a football season kick-off, to hear from our coaches. A chance for them to tell us what is going on in their programs and mention some of their players. It has been a great program over the years and we were not willing to give it up this year. Again I would like to thank the Principals and Athletic Directors from every school along with Dr. Ottot. Special thanks to the Rotary Club. I'd like to introduce someone that has been apart of planning this event since day one. He and I grew up together, played football together, we recognized the importance of football in the community. Please welcome, Jason Freeman, Paulding County's Athletic Director.
Last week I did not speak, because we had three coaches. I wanted them to have time to speak on behalf of their programs and athletes. This week we have only two coaches, and I felt the need to thank Ford and the Club on behalf of the entire school district. We are extremely grateful to you guys continue to do this. I believe that this year, especially under the current conditions, it was very important. I thank Ford for sharing that vision, it would have been easy to give up this year. On the question that I'm constantly asked, "will we play in the fall?" Right now we are set to play Sept. 4th. However, there is a constant doubt that things may not turn out what we want to. I can't even imagine being in the shoes of these five head coaches, since we were able to start conditioning back in June. The task of keeping your players optimistic, working hard, and motivated when you have that doubt in the back of your mind as to whether or not this season will move forward has to be extremely tough. I told Ford last week, these five coaches are tough. These are the type of guys you want to be elbow to elbow with when you're going into battle. They figure out ways to make things happen. I'll close with what Tim Tebow quoted Mike Tyson saying, "Everybody has a plan until you get punched in the face." This season has been a constant punch in the face, with the way things are and constantly changing. I can't thank our coaches enough for what they do for our young people.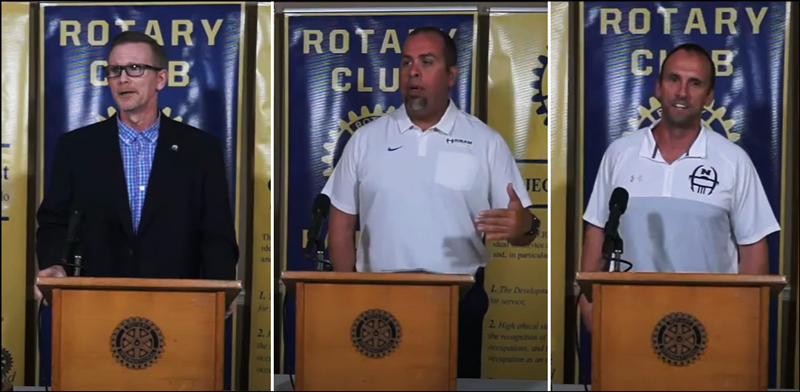 Next, Ford returned to the podium to introduce Pete Fominaya, Hiram High school's Head Coach for the past three years. In taking the podium coach Fominaya apologized in advance. Sometimes when talking about football I get excited and I get louder. This is one of my favorite events, three years ago I never heard of anything like this. I appreciate the Rotarians, service means so much to me. I read about leadership and I talk about leadership all the time, servant leadership is the most important kind because you put the needs of others before the needs of yourself. Thank you for hosting this event. Thanks to Dr. Ottot, our superintendent has stood firm during one of the most difficult times to be a leader, our school board members that help to facilitate us, Mr. Freeman our County Athletic Director, Principal Cooksey, and my Athletic Director Coach Wallace. These people facilitate and make it possible for us to use football as a tool to impact young people's lives. My coaching staff works hard every day, they set standards and expectations, they are the best in the state. Our booster club members do everything they can to make us a first-class organization. Special thanks to Robbie Finley, who has not only made a difference in my life but also in our kids' lives as well. Also, Jake Cafferty who is our FCA representative at Hiram high school. My wife, if she didn't support me it would be impossible with the number of hours, and the type of job that this is, it would be impossible for me.
This is about hope. Getting kids back on the field and out of the house that they have been stuck in for three months is about hope. We need to show them that things can and are going to get back to normal.
We are going in your third year here, year one was about setting the standard (expectations) some took to it and some didn't, but that's how it works. You too, last year was about learning how to fight. Young people struggle with finishing and fighting, I'm not talking about physical altercations. I'm talking about learning how to fight through something and finish. This year, it's about being relentless. To be a successful person you have to be relentless. Being a father, being a mother, or being the owner of the business you can't give up. If you're going to be good at something you have to stay at it all the time. Last year was great for us, we made the playoffs, Hiram had not done that since 2010. We won a first-round playoff game, Southwest DeKalb they were 9-1, top 10 in the state. It was a challenge. Second round to Griffon, we brought a great game despite them pulling away at the end. We learned the next step in the team. This year we have 31 seniors, that is a lot, these kids want to play. We have two players with Division I offers right now, Brandon Maina and CJ McGarity have multiple offers. You may not have heard of Gira Douglas but by the end of the year, you will. On Offensive, wide receivers we are as good as we have ever been. We are in a region now with Blessed Trinity, 3-time state defending champions out of Roswell. I'm very fortunate that I get to do what I do. I'm very passionate about influencing young people. Thank you again for hosting this event.
Ford, again returned to the podium to introduce coach Don Stark, first-year Head Coach for North Paulding. This will be his 11th season as a head coach with a 68/40 record, for the past four years, he guided Sanford Seminole high school to two undefeated seasons with district and conference championships including an appearance in the state final four. Is proud to have coached 3 current NFL players and 4 current BCS players. From 2004 to2006 he worked with George O'Leary at the University of Central Florida. He and his wife, Tammy have two sons Braden and Luke.
Coach Stark took the podium, thanks to Ford for the introduction. Coach Stark spoke about the difficulties in transitioning from Florida this year. He mentioned how grateful he was for the support he is already receiving. As coach Pete mentioned previously, this year will be one of setting a standard and expectations as he gets to know the team and staff. We have two returning stars on offense, we have Kyle Bird as the quarterback and Dawson Rhodes at tight-end. Everybody else is pretty much brand-new. We have potential there including Bradley Stillwell as a receiver, who is a two-sport athlete. He plays basketball as well. Cameron Cooke at runningback and Jaylin Po who is a name that you are going to hear. We have a young offensive line. Defense is where we are going to be strongest with 8 returning seniors. As Coach, my position is going to be a defensive coordinator this year and next year I will be an offensive coordinator. Probably the biggest of the changes but you will see at North Paulding is that we are not going to have anyone going both ways. We are going to go on one side of the ball and over time but is going to help us. It's an honor to lead a bunch of young men that I have been given the opportunity to coach. I hope to see some you guys and games and I just can't thank you enough for having us here.
In closing, Ford Thigpen returned to the podium to thank the coaches and everyone for their participation in this year's pigskin preview. He expressed his admiration for their hard work in caring for the extended families that a football program represents.
Jason Freeman, Pete Fominaya, Don Stark