President Brian Stover covered the upcoming schedule for Rotary club members and outlined projects in development then handed the floor over to the Rotary Club secretary John Grant, who introduced Dr. Melton and highlighted her achievements and experience. Dr. Melton's experience as a counselor, teacher and a leader in the field of domestic violence prevention and recovery is extensive. After outlining the doctor's experience and background the floor was then turned over to Dr. Melton.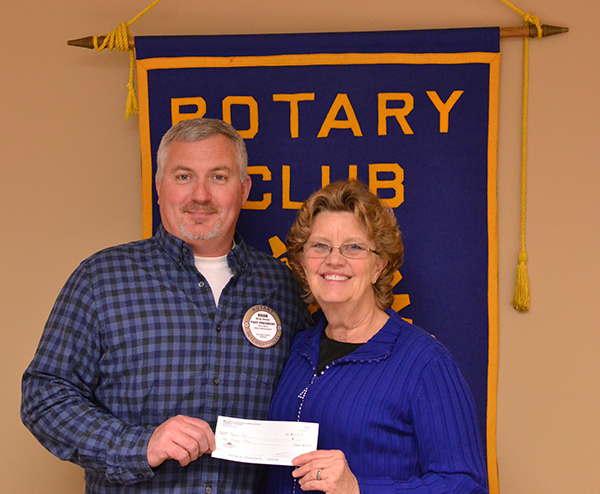 Dr. Melton begin by thanking the Rotary Club members for their continued support and encouragement in meeting the ongoing needs of women and children trapped in the cycle of abuse here in our local area. Dr. Melton outlined and explained the services that the Shepherds Rest shelter provides. 24 hour crisis line, emergency food and shelter, transitional programs, legal advocacy, counseling and therapy programs are all part of and exhaustive list of services that the Shepherds Rest Ministry provides in the Paulding County area. In this past year over 1300 domestic violence calls were answered and over 500 of those received legal assistance.
After a brief update with regard to the women's shelter efforts in our community, including some staggering numbers, Dr. Melton moved from the statistics to more personal explanation of what the Shepherds Rest Ministry accomplishes in the lives of women and children in crisis. Her explanation encompassed the necessity for education and encouragement to restore the families touched by domestic violence. Shepherds Rest Ministries receives no large government grants and relies upon the donations and support through sponsorship of local groups such as the Rotary club. Dr. Melton expressed her gratitude at the accomplishments that were made possible by the charity of our local community. In addition, Dr. Melton's presentation she was accompanied by a young lady who is currently receiving the assistance of the Shepherds Rest Women's Shelter due to a domestic situation. She expressed her gratitude for the shelter and those who support it. She gave a personal and emotional testimony as to the good work that this program was doing in her life.