Paulding County People make the difference for New LGE Dallas location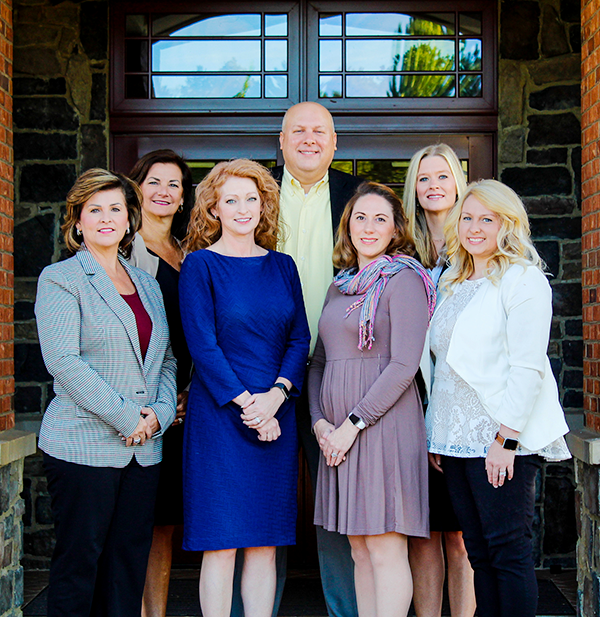 How does being a lifelong resident of Paulding County give you a greater advantage in servicing the people in Paulding Co?
As a 30+ year Paulding County resident who has lived, worshiped, attended school and been actively involved in many activities, there is no one better to speak to the experience of being a part of the Paulding County community. Although I was born and raised in neighboring Polk County, Paulding County was the natural choice when deciding where to plant roots and raise my children. I've always loved the hometown feeling of Paulding County and knowing the area has made it easy to connect people to the great products and services LGE offers. Having roots in Paulding County allows me to have relationships with our members like they are friends or family, instead of just an account number. -Judy Kinney, Senior Vice President of Branch Delivery and Operations
As a lifelong Paulding resident, I am thrilled to be able to assist people that I have known for years. There is a bond and trust factor in seeing a familiar face when you are doing business, and it always makes my day when I get to work with people I have not seen in a while. -Leah Alls, Vice President of LGE Insurance Services
Although Paulding County has experienced great growth over the past years, we still have that small hometown culture. For me, that hometown feeling is important and something I want to see continue for my children. Being a part of this culture gives me an advantage in servicing our members because I can relate to their history and everyday lives to determine what their needs are and ways I can help make their lives better. -Ashley Turner, Accounting Coordinator
Being a lifelong resident of Paulding gives me an advantage in servicing our members because I have my finger on the pulse of the everyday needs of consumers in this area. Being their hometown Mortgage Loan Officer allows me to assist the members with their new dream home(s) in Paulding because I already have a vast knowledge of the subdivisions they wish to buy in, property values and area hot spots that are up-and-coming. LGE offers low mortgage rates, flexible loan programs, and a GREAT service team to take care of our members with one of the largest financial purchases of their lives. -Tina Sanders, Mortgage Loan Officer
What sets LGE apart from the other banks in Paulding County?
LGE has been around for more than 65 years and has always maintained a reputation as a trusted financial institution, not only for consumers but as an amazing place to work as well. We've been recognized as an AJC Top Workplace for the past several years. This is an honor-driven solely by a survey of our employees, so this says a great deal about the kind of company we are. -Judy Kinney, Senior Vice President of Branch Delivery and Operations
The biggest thing that sets LGE apart from other banks comes straight from our motto of "People Helping People." To me, LGE is more like a family than a credit union. Employees truly care about the well-being of our members and really do want to help. You don't find that much in today's world, especially in the customer service industry. -Ashley Turner, Accounting Coordinator
What services do you offer that other banks do not?
LGE offers all the products and services you would expect from a bank. What really sets LGE apart is our focus on the community and giving back, which is a win for everyone. No one knows the communities LGE serves better than we do, and that is primarily a result of hiring the best possible staff who also live in and are a part of LGE's footprint. -Judy Kinney, Senior Vice President of Branch Delivery and Operations
Something unique about LGE is that we have an insurance agency right under our same roof: LGE Insurance Services, LLC. This makes LGE a one-stop shop for not only your traditional banking needs like a checking account or loan but your insurance needs as well: from auto insurance to homeowners/renters insurance to life insurance and everything in between. -Leah Alls, Vice President of LGE Insurance Services
About LGE Community Credit Union
LGE Community Credit Union offers a wide variety of financial services. This includes participation in a nationwide ATM network, Online and Mobile Banking (which includes great features like Snap Deposit, allowing users the convenience to deposit a check via the LGE mobile app on your mobile device). The acquisition of the Dallas location grows the number of LGE Community Credit Union's branches to 13.
LGE Community Credit Union provides full-service, federally insured banking to over 108,000 people in northwest Georgia, with better rates and lower fees than you will typically find in a big bank. LGE serves all residents and businesses within Cobb, Paulding, Cherokee and Fulton counties. Since 2010, LGE has invested over $750,000 in the lives of those in the community including children, homeless, abuse victims and those that fall on hard times. For more information, visit LGEccu.org.