WellStar and Home Depot partner to honor Veterans Garden Renovated at Paulding Nursing & Rehabilitation Center
DALLAS, Ga. (September 12, 2017) – WellStar Paulding Nursing & Rehabilitation Center and Home Depot's associate-led volunteer force, Team Depot, collaborated to honor veterans and service members who have passed away. They transformed the Nursing Center's garden into a Veteran's Memorial with new plants, raised beds and even rocks painted with veteran's names.
The updated garden provides the residents and their guests a serene location to enjoy the outdoors. The transformation process included weeding, re-planting flowers and creating several new flower beds. Residents say this is a great way to honor veterans for their service and sacrifice.
"The other residents and I are certainly pleased with the results, I especially love the yellow roses and birds that come to us," said Morgan Myrtle, a resident at Paulding Nursing Center.
Members of the Hiram Home Depot led by Gail Walker and Brandon Huff donated their time and supplies to bring the memorial to life with hummingbirds, butterflies and honeybees. The project was funded by Home Depot Corporate.
Lori Thomas, activity assistant for Paulding Nursing Center, connected Home Depot and WellStar to honor veterans in the community.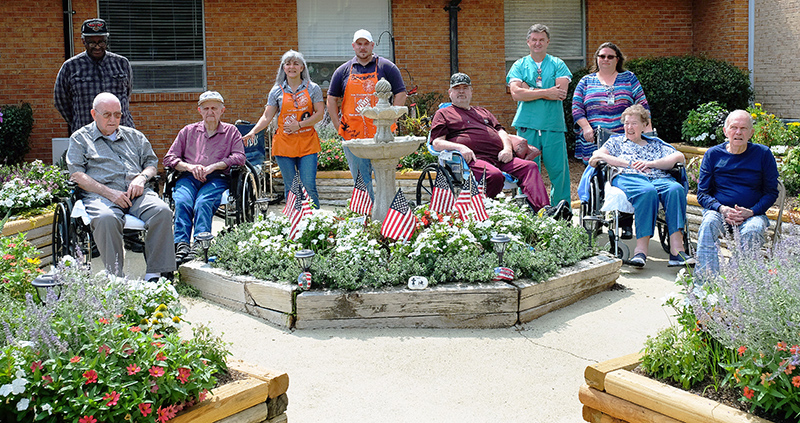 "It is our privilege to find new ways to make Paulding Nursing Center feel like home," Thomas said. "Many residents here are from Paulding County. They are accustomed to having farms and gardens of their own. This garden gives residents the opportunity to help water and plant new bulbs."
WellStar Paulding Nursing Center opened its doors to serve the community in 1965. The Center has been recognized as one of the top nursing facilities in the country by U.S. News and World Report. The Veteran's Memorial Garden is one example of WellStar's commitment to provide high quality care.
About WellStar Health System
WellStar Health System, the largest health system in Georgia, is known nationally for its innovative care models, focused on improving quality and access to healthcare. WellStar consists of WellStar Medical Group, 250 medical office locations, outpatient centers, health parks, a pediatric center, nursing centers, hospice, homecare, as well as 11 hospitals: WellStar Atlanta Medical Center, WellStar Atlanta Medical Center South, WellStar Kennestone Regional Medical Center (anchored by WellStar Kennestone Hospital), WellStar West Georgia Medical Center, and WellStar Cobb, Douglas, North Fulton, Paulding, Spalding Regional, Sylvan Grove and Windy Hill hospitals. As a not-for-profit, WellStar continues to reinvest in the health of the communities it serves with new technologies and treatments. For more information, visit wellstar.org.