WellStar Health System expands collaboration with Mayo Clinic
WellStar Health System is expanding its collaboration with Mayo Clinic, a global leader in medical research and education. All WellStar facilities now have access to the resources of the Mayo Clinic Care Network, a national network of like-minded organizations who share a commitment to better serving patients and their families.
"At WellStar, we are focused on finding innovative ways to improve patient care," said John A. Brennan, M.D., executive vice president & chief clinical integration officer. "WellStar is home to some of the most accomplished and preeminent physicians in the Southeast. By collaborating with Mayo Clinic, we are giving our physicians and patients another resource that can improve the health of our community."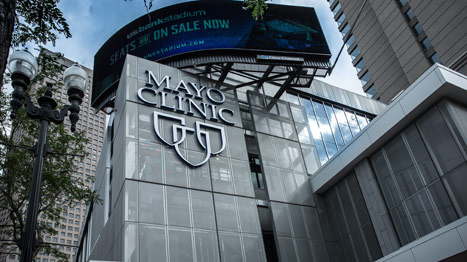 WellStar joined the Mayo Clinic Care Network in 2014. Now all 11 hospitals and WellStar Clinical Partners members are included in the Mayo Clinic Care Network. Through digital technology, physicians in the network can collaborate and share the latest medical information. Experts from WellStar and Mayo Clinic work together to further enhance the delivery of healthcare, allowing many patients to receive answers to complex medical questions, close to home.
"WellStar's membership in the Mayo Clinic Care Network is a great example of their dedication to providing the best care, close to home," says Ryan Uitti, M.D., Mayo Clinic Care Network SE Medical Director. "Sharing Mayo Clinic's knowledge, resources, and expertise with WellStar Health System physicians provides great peace of mind for their patients. Now with the expansion of WellStar in the care network, even more patients will benefit from our collaboration."
Specialists across WellStar can now have access to Mayo Clinic's knowledge and expertise using a variety of electronic tools and services and can consult directly with Mayo Clinic experts on complex diagnosis and treatment plans. These tools and services include:
eConsults: WellStar Clinical Partner physicians use electronic consulting to connect directly with Mayo Clinic specialists on complex patient cases, which is included at no cost to the patient.
AskMayoExpert: All members of WellStar's medical staff have 24/7 access to Mayo-vetted medical information and guidelines through AskMayoExpert, which is a web-based resource created for physicians and other healthcare providers.
Healthcare Consulting: Related to clinical and business processes, this relationship allows WellStar providers to accelerate patient care innovations.
Since launching in 2011, the Mayo Clinic Care Network has grown to include more than 40 healthcare organizations across the country including China, Mexico, Singapore and the United Arab Emirates.
About WellStar Health System
WellStar Health System, the largest health system in Georgia, is known nationally for its innovative care models, focused on improving quality and access to healthcare. WellStar consists of WellStar Medical Group, 250 medical office locations, outpatient centers, health parks, a pediatric center, nursing centers, hospice, homecare, as well as 11 hospitals: WellStar Atlanta Medical Center, WellStar Atlanta Medical Center South, WellStar Kennestone Regional Medical Center (anchored by WellStar Kennestone Hospital), WellStar West Georgia Medical Center, and WellStar Cobb, Douglas, North Fulton, Paulding, Spalding Regional, Sylvan Grove and Windy Hill hospitals. As a not-for-profit, WellStar continues to reinvest in the health of the communities it serves with new technologies and treatments. For more information, visit wellstar.org.