WellStar's Mark Haney named 2017 Alumni of the Year by Technical College System of Georgia
ATLANTA (December 13, 2017) — Mark Haney of Marietta was named Alumni of the Year for the Technical College System of Georgia (TCSG) by the TCSG Foundation Thursday evening. Haney serves as WellStar Health System's senior vice president of Real Estate, Facilities, and Development Services. He was honored alongside Shadae Yancey-Warren of Rome. The TCSG Foundation recognizes outstanding alumni of TCSG affiliated colleges each year at its "A Taste of TCSG" event. Governor Nathan Deal, along with TCSG Commissioner Gretchen Corbin, presented the awards.
"Shadae and Mark represent the best of the Technical College System of Georgia, not only through their career success but in their commitment to improving their communities by giving back," said TCSG Commissioner, Gretchen Corbin. "It's truly an honor to recognize two exemplary alumni of the Technical College System of Georgia—they make us proud."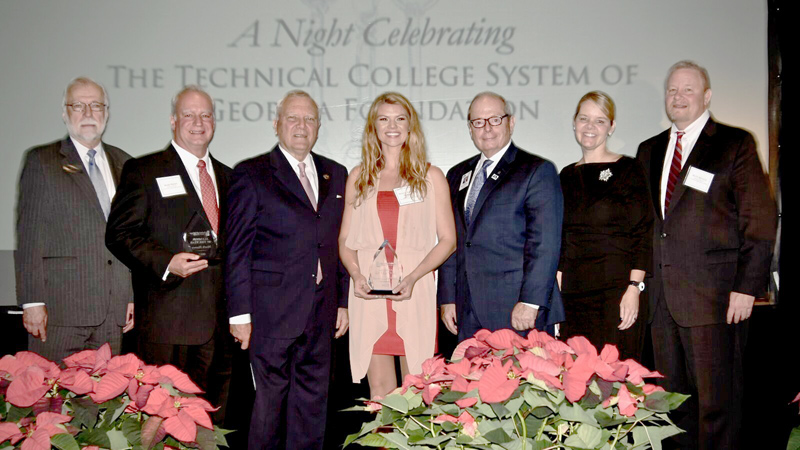 Mark Haney is a 1977 graduate of the emergency medical technician (EMT) program at Marietta/Cobb Vocational Technical School (now Chattahoochee Technical College). Haney enrolled in the EMT program while still in high school, where he earned his certification and worked for a local ambulance service. He went on to earn his bachelor's degree in respiratory therapy as well as master's degrees in business administration and health administration from Georgia State University. He has been with WellStar Health System since 1978 and served as President of WellStar Paulding Hospital and Nursing Center 2009-2017. Recently, Haney was named senior vice president of Real Estate, Facilities and Development Services for WellStar Health System. Haney is committed to his community, chairing the Paulding County Economic Development Board, as well as serving on the board of the Paulding County Chamber of Commerce. Haney was named the TCSG 2017 Alumnus of the Year by the TCSG Foundation.
Shadae Yancey-Warren is a 2011 graduate of the marketing management program at Georgia Northwestern Technical College in Rome. Following graduation, Yancey-Warren opened Jamwich, a specialty sandwich shop in downtown Rome. Since opening, Jamwich has garnered much attention, including being named to Georgia Tourism's "100 Plates Locals Love" list. Yancey-Warren continues to invest in her community through her "GIVE-A-JAM" initiative, which provides meals to those in need. Yancey-Warren was named the TCSG 2017 Alumna of the Year by the TCSG Foundation.
About The TCSG Foundation
The TCSG Foundation supports the Technical College System of Georgia through marketing, advocacy and fundraising to benefit the system's 22 colleges and their programs, faculty, and students. The TCSG Foundation is a 501 (c)(3) organization.
About WellStar Health System
WellStar Health System, the largest health system in Georgia, is known nationally for its innovative care models, focused on improving quality and access to healthcare. WellStar consists of WellStar Medical Group, 250 medical office locations, outpatient centers, health parks, a pediatric center, nursing centers, hospice, homecare, as well as 11 hospitals: WellStar Atlanta Medical Center, WellStar Atlanta Medical Center South, WellStar Kennestone Regional Medical Center (anchored by WellStar Kennestone Hospital), WellStar West Georgia Medical Center, and WellStar Cobb, Douglas, North Fulton, Paulding, Spalding Regional, Sylvan Grove and Windy Hill hospitals. As a not-for-profit, WellStar continues to reinvest in the health of the communities it serves with new technologies and treatments. For more information, visit wellstar.org.
Photo:
L-R: Mark Haney of WellStar Health System accepted the Alumni of the Year Award from the Technical College System of Georgia Foundation. Pictured l-r: Ron Newcomb, president, Chattahoochee Technical College; Mark Haney, WellStar; Governor Nathan Deal; Shadae Yancey-Warren, Jamwich; Pete McDonald, president, Georgia Northwestern Technical College; Commissioner Gretchen Corbin, TCSG; and Deputy Commissioner Matt Arthur, TCSG.